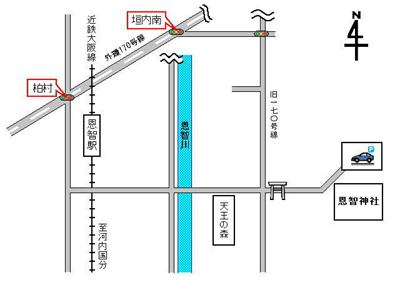 Go east from the Kaichi-minami intersection on the Osaka Gaikanjo Route (R170), go south on Higashi-Koya Kaido (R170), and follow the signs up the approach. You will see a torii gate to the east. Then follow the signs up the path. (There are about 50 parking spaces available.)
※The Jinja is very crowded during the New Year holidays.
The roadways are narrow, so please use public transportation to visit the JInja.
20 minutes walk from "Onji Station" on the Kintetsu Line. About 50 minutes from Osaka Station(route information)